Hart Road Runners spent a great weekend at The River Café and Bunk House in the Brecon Beacons. The weather was kind, with milder than average temperatures and only a little rain on the Saturday. The runs were magnificent, with superb views and good friends. Here's a review of the events for the weekend.
Friday 26th January
After setting off from HLC at 7.00am, we arrived at our base for the weekend, not long after, followed the first run of about four miles to orientate ourselves to the area and to warm us up for the longer run after lunch. This run gave us an inkling of how many hills we would be running up during the weekend, making the hill training sessions on Tuesdays look like a walk in the park!
Pretty much the only flat bit – crossing the river – next to the River Café.
After a delicious lunch of pasta, we set of on our first long run up to Begwns Hill and the Roundabout.
How far to the top?
At the top, with our blue Hart Road Runner Hats on, so Kevin could keep an eye on us all in case we wandered off!
It was a long slog up but we were rewarded at the top with a chance to sit down at the Roundabout. The Roundabout is a dry-stone wall encircling the trees at the top. All in all about a nine mile run, where we were greeted by some superb views, after a long uphill effort.
Finally, we get to sit down! Who bought the food for the BBQ? Although most of us were running, there was also the cycling team for those that had injuries or were to develop them, after the long run down from Begwns Hill!
Go, Tom!
The run down was much easier, but for the more mature of us, the impact of six miles running down hill took its toll on the knees, whilst the mountain goats amongst us, were back for tea and cake in no time.
That evening, we had some great food and good company in The River Café before turning in ready for the early morning pre breakfast run the next day at 7.30am.
It was noisy, but this seemed to help!
Great glass of red?
Where's mine?
Saturday 27th January
The early morning pre-breakfast run, to help endurance, was very much off road, including a water jump, that most failed to clear, resulting in many pairs of wet trainers and debate on the best way to dry them out!!
Piggy back, anyone?
After lunch, the second run of the day took place, a short run up hill, to a open area of grass land with some steep inclines for a 'fun' speed session and relay. The first activity was' Gumbrill's Fartlek,' with Steve given the task of catching each Hart Road Runner – upon being caught they had to head back in the other direction. This was followed by team relays. This speed session was very challenging, with steep hills.
Ready, steady, go!
We go east to Mordor!
After this session, it was back for some lunch and then a spot of down time although some found a new sport to take up – table tennis – whilst others relaxed or had a snooze.
'See No Evil, Hear No Evil, Speak No Evil'
The evening head torch run started at 5.30pm and involved running off road in the dark through more muddy puddles.
All this running made us very hungry for dinner!
Sunday 28th January 
The following day dawned with great excitement as today we were going to mount Lord Hereford's knob! This was the longest run of the weekend and had been the butt of many jokes during the weekend, with Kevin trying to think up different ways of saying Lord Herefords Knob, without referring to the knob, when giving briefings! The weather was mild and cloudy, but no rain and we set off in two groups, whilst two of us were also on bikes. The mountain goats (Peer Group 1) went on ahead and the mere mortals were slightly behind. It was about four miles of uphill slog to the foot of Lord Hereford's Knob (giggle), where the cyclists left their bikes and continued on foot. As we started our ascent, we put on more layers as it was getting noticeably cooler as we gained height and some complained they were breathing so hard due to the high altitude and lack of oxygen!
As we reach the summit, a climb of over 600m, it became increasingly windy. The views were fantastic and running along the top to Hays Bluff Peak was exhilarating and fairly easy because the wind literally blew us along, before long we descended back down the mountain.
In my previous life, I was a mountain goat! Don't you know!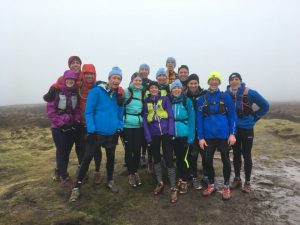 At the top!!
This is where we encountered the extra challenge of navigating back to one of the bikes, which had been left at the bottom of Lord Hereford's Knob (giggle again)! In order to do this, the group split in two, with one group returning back to the bunk house, ably navigating their way back, whilst the other smaller group set out to find the missing bike!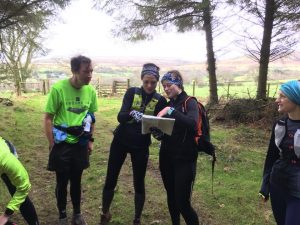 Where did Kevin say we had to go?
After crossing fields, running down a stream which was pretty slippery, running through bogs, crossing some fords whilst trying to avoid the sheep poop, with much relief, we finally found the bike and were able to run back to the bunk.
Relief, we found it!!!
Perhaps, this challenge could be added on next year! One team leaves the bike somewhere on the mountain and the other team has to find it! After a warming lunch of beef stew, we were ready to leave and we were packed off with coffee and cake for the journey back to the 'lowlands' of Fleet.
HRR WTC Lord Hereford's Knob and Hay Bluff
What more can be said about such an awesome weekend! With fantastic running, eating, laughing, chilling, all done with great friends it has been a weekend where many happy memories have been made!  A big thank you to Kevin for  organising it all. This weekend only came together so brilliantly because of Kevin's great leadership and because of the time and effort he put into organising it so a big thank you to him. Finally, Kevin, can we do it again next year??